A sanctuary from your busy life.  Yoga   Massage   Salt   Gifts 
Soma Cura Is open today safely offering massage, salt room treatments and Yoga classes in-studio and online to students of any level.
Yoga at Soma Cura
Yes, poses are part of Yoga, but it is only the beginning of a yoga practice. Learn a little of what Yoga means at Soma Cura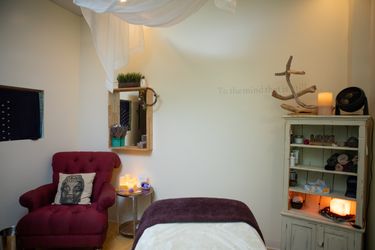 Massage
Massage is a blessing to the best gift you ever received, your only body
Salt provides A gentle treatment for breathing and skin conditions.
What Our Clients Are Saying
Your friends and neighbors have been enjoying Soma Cura for years. See why they have made it their sanctuary too.
"It's one place I never regret taking the time to go to."
Soma Cura makes you feel like family, Its an oasis away from the craziness of the world. If you've never experienced the benefits of yoga, this is the place for you ,with all levels offered, judgement free zone. You feel stronger, stretched and relaxed afterwards.
-Pete and Diane W.
"This is my home away from home"
"the yoga, the massage everything is amazing and top notch. The teachers are true professionals and I just love the environment. Relaxing, inviting and fun. A must go for yogis and beginners alike!"
- Libby S.
"...a marvelous experience is about to begin.."
"The moment you walk in the door, your senses tell you that a marvelous experience is about to begin with you being the beneficiary of all of it. Whether you're there for a massage, yoga, the salt room, you just know your spirits will be lifted up."
- Thomas W.
"Soma Cura is my happy place!"
"From the moment I walked in the door 8 months ago I felt like I found my place. The yoga is wonderful but the instructors are what make it so. One thing that has amazed me is that everyone remembers your name and treats you like they've known you forever. Needless to say, I absolutely love it there."
- Helen B.