Bolster Club
Become a supporting pillar of the Soma Cura Community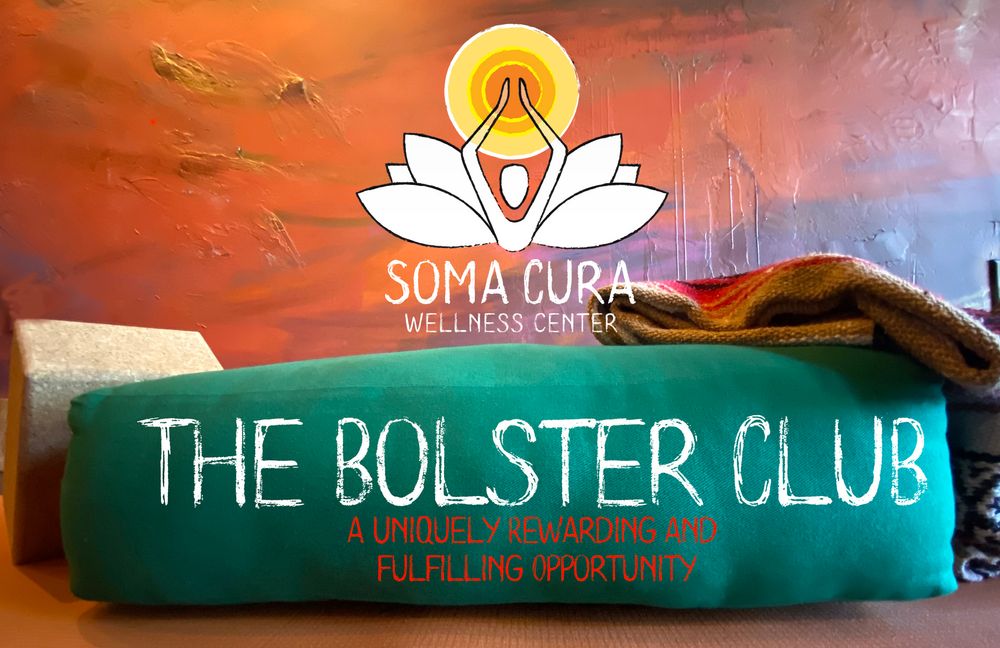 Become a Soma Cura Bolster
Bolster (from old English) -noun: a long, thick pillow that is placed under other pillows for support.
verb: to support or strengthen, reinforce, give a boost too
Why join the Soma Cura "Bolster Club"?
If you have been invited to this page, you or someone you know has a special connection to Soma Cura Wellness Center. Since our inception, we have tried to make the community at Soma Cura one that makes a place for everyone. We will be that in the future, and with a little help from some friends now, we will be able to get back to that place a little quicker once we reopen.
If you have been with us through the years, you have watched us grow, succeed, fail, and stumble along the way. We want to make a special offer to you that will give great benefits to you while supporting Soma Cura now and for many years to come. We want to provide you with something that has real value today and tomorrow that simultaneously helps ensure and secure Soma Cura's place in the future.
The catch is we need you to commit and help now.
Become an inaugural member of the "Soma Cura Bolster Club". We came on this name because bolsters are there to cushion you from pain, lift you up when you need an assist, and just provide you with a feeling that help is always there, no matter how tough it gets.
We have a goal of 100 Bolster Club Members by April 20. That is 15 days from now. We need 7 new Bolster members each day. As Vanessa is so fond of always saying, we can do this.
Soma Cura Bolsters will have a special relationship with the studio. Specifically, Bolster club members will be entitled to the following:
The Benefits of Soma Cura Bolster Club Membership
The lowest member price every day. No waiting for a sale. No autopay or time commitment ever required.
An annual rebate based on your total purchases equal to 10% of every dollar paid.
An annual rebate based on the total sales of Soma Cura in the previous year. (Sort of like profit sharing)
*Savings and account credits will return you more than the investment with modest use. Significantly more with regular usage.
Invitation to an annual event for Bolster Club Members only.
First opportunity for special service offerings.
Chances to contribute to strategic planning and events at the studio as valued partners.
Bolster club membership investment
$300 for three-years ($8.33/month)
$500 for a lifetime membership
**Membership "Clocks" do not start until Soma Cura has been opened back up.
***Bolster Club memberships don't Auto-Renew. We hope you want to do it again.
You may purchase it on-line at the link above or by calling us at 716-773-1369 as the studio is not open.
We are opening the sales for Bolsters from now until April 30.
Bolsters will be invited to a special grand opening party after we are back in operation.
We hope you can support us and become part of our Bolster club.
If you know someone you think would want to be part of the bolster club, please share this with them.
If you wish to support us but do not want to be part of the Bolster club, you may buy gift cards or prepaid services which can be used when we reopen.
Matt and Sue
Details of Bolster Club membership
The Details
Savings
The lowest price available on all products and services every day of the year. No more waiting for or worrying about sales. You will always get member prices for massage whenever you come in. No need to have autopay set up, no need to commit to any length of time. Get whatever services or products you want for the lowest prices of the year (Closeout retail prices excluded) every time. If it is ever moves below a price you paid, you will get a rebate on your account for the difference. You are restricted to purchases for yourself under this plan. Savings do not extend to gift cards, memberships or introductory offers.
Bonuses
An annual rebate based on your total purchases equal to 10% of every dollar paid. Spend $700 on massages in a year, get a $70 credit on your account for purchases or services in the coming year. The more you use, the bigger your rebate. Only cash sales apply to this bonus.
An annual rebate based on the total sales of Soma Cura in the previous year. A pool of account credits will be equally divided amongst all Bolster club members each year based on the success of Soma Cura in previous year. This amount will be between 1-5% of the gross sales of Soma Cura. The more Soma Cura grows, the bigger your rebate.
Special Offers/Opportunities
Invitation to an annual event for Bolster Club Members only. We will hold an event at Soma Cura or elsewhere if needed to thank you, review the previous year, and share with you our hopes for the coming year. We are a community, and this annual event will be a chance for us all to come together and appreciate all we are and can be.
First opportunity to get special service offerings of massage, Yoga or in the salt room. If something is being sold in limited amounts, you will have first opportunity to make sure you get what you want.
Chances to contribute to strategic planning and events at the studio as valued partners. Bolster club members will be offered the chance to be on committees that will help shape the future of Soma Cura's Yoga, massage, salt and wellness offerings. You will be our in-house focus group for things like schedules, pricing, new ventures and more. Be a part off the community you value so much